FLIGHT SAFETY GROUP NEWS BRIEF
11 MAR 2019
HELIDECK UPDATE PART 2 - CAP 437 DIFFERENCES WITH AMENDMENT 01/2018 SEPTEMBER 2018
Our previous newsletter (November 2018) provided an initial overview of differences between the latest versions of CAP 437. The practical application of the requirements has now been tried and tested and the following analysis identifies some of the in-field issues, both positive and negative.
It is apparent that industry pressure continues to play a part in the development of offshore standards and procedures in both a positive and negative way.
The almost indistinguishable balance between cost and safety, from a safety management perspective, is often misidentified and is influenced by industry pressure particularly when there is a decline in the economy.
CAP 437 POSITIVE EXAMPLES

The progress towards more effective offshore helideck regulatory oversight is apparent in the latest documented requirements as defined by CAP 437, however in some respects this is UKCAA specific and might not be acceptable to other national regulators and could be counter-productive as identified in the Negative analysis section below.
Some countries have developed a national version of CAP 437 e.g. Malaysia, Abu Dhabi, Argentina, with many others for example Australia, are currently either accepting CAP 437 with differences, or alternatively developing their own version of CAP 437.
The CAP 437 provides detailed and expanded requirements; for offshore weather interpretation training, friction testing and the management of obstacle clearance limits and helifuel procedures. These are valuable enhancements to this version
Lit TD/PM Circle and heliport identification 'H' marking became a CAP 437 requirement on the 1st April 2018, however there are still many non-compliant installations globally, resulting in the need for an alternative interim measure to be adopted by the affected Rig owners. Flight Safety has developed an interim tripartite Risk Assessment/Safety Case process that will withstand legal review and has a 12-month final applicable grace period for closeout
CAP 437 Negative Examples
Testing Regime for Profiled Helidecks
The following extracts from CAP 437 describe an illogical testing process that has created confusion and resistance amongst the industry. The general interpretation is that samples have to be taken from the helideck surface and sent away for testing. This is clearly impractical and counter-productive from both a cost and logistical perspective.
Also, friction testing, in only a parallel alignment with the ribs on profiled helidecks, is impractical due to common knowledge that the helideck is used for loading and offloading of heavy equipment and containers. This process damages the friction surface and therefore it follows that periodic testing is essential.
Legacy Approvals
Legacy approvals or 'Grandfather Rights' are often the result of industry pressure and are usually justifiable if the associated risk is correctly managed and not simply ignored. Examples below:
Perimeter Safety Net
In previous versions of CAP 437, the perimeter safety net height was mandated at 250mm above the helideck height. Further analysis confirmed that this still held an unmanageable level of risk due to potential tail rotor strike, or in extreme circumstances dynamic rollover. The height was then reduced to the helideck height.
The latest version of CAP 437 has now reversed that decision and the 250mm height above helideck height has now been re-approved as a legacy consideration, but only for installations that precede an original manufacture date of the 1st January 2012. The following two extracted and highlighted excerpts identify the issue.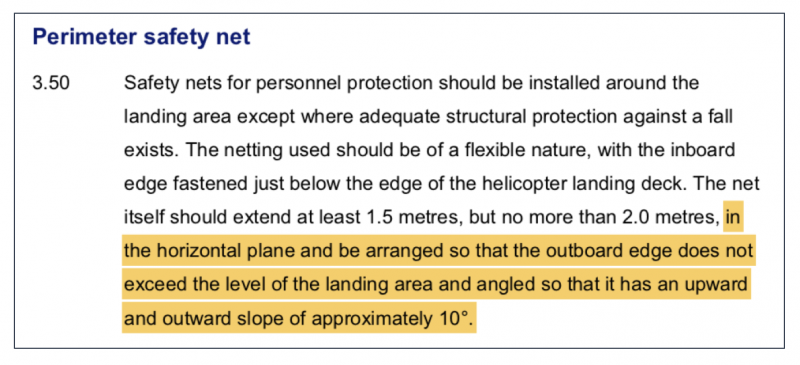 It is difficult to reconcile legacy thinking in this instance as we have two current, conflicting concepts that might not withstand the rigors of a Coroner's Court.
In general terms there is no doubt that UKCAA CAP 437 is a very valuable document but there is still room for improvement with some of the practical applications identified.
FLIGHT SAFETY GROUP UPDATE
The Flight Safety Group of companies is continuing to expand throughout Africa and into Europe with operations in Spain and the UAE, and contracts confirmed and pending in Libya and OMAN.
The acquisition of a third Findlay Irvine MicroGrip friction tester - adopted as the industry standard across the world and fully compliant with UK CAA CAP 437 - has positioned the Flight Safety Group as a global leader in delivering friction test services. This is the only CAP 437 approved friction testing machine (Reference Chapter 3, Paragraph 3.40, Page 58).
Findlay Irvine MicroGrip Friction Tester
The two South African companies – Flight Safety Africa and Helideck Certification – Africa, conduct the majority of helideck related training on the African continent, with national training carried out in Cape Town and Pretoria, and international training conducted in many other countries including Ghana, Mozambique, Namibia etc.
A new electronic database management system has been developed - this system is web-based and will ensure that all helideck inspections, friction tests, audits and helipad design operations are effectively managed in accordance with the Flight Safety Group's ISO 9001:2015 Quality Management System.